In case you're interested.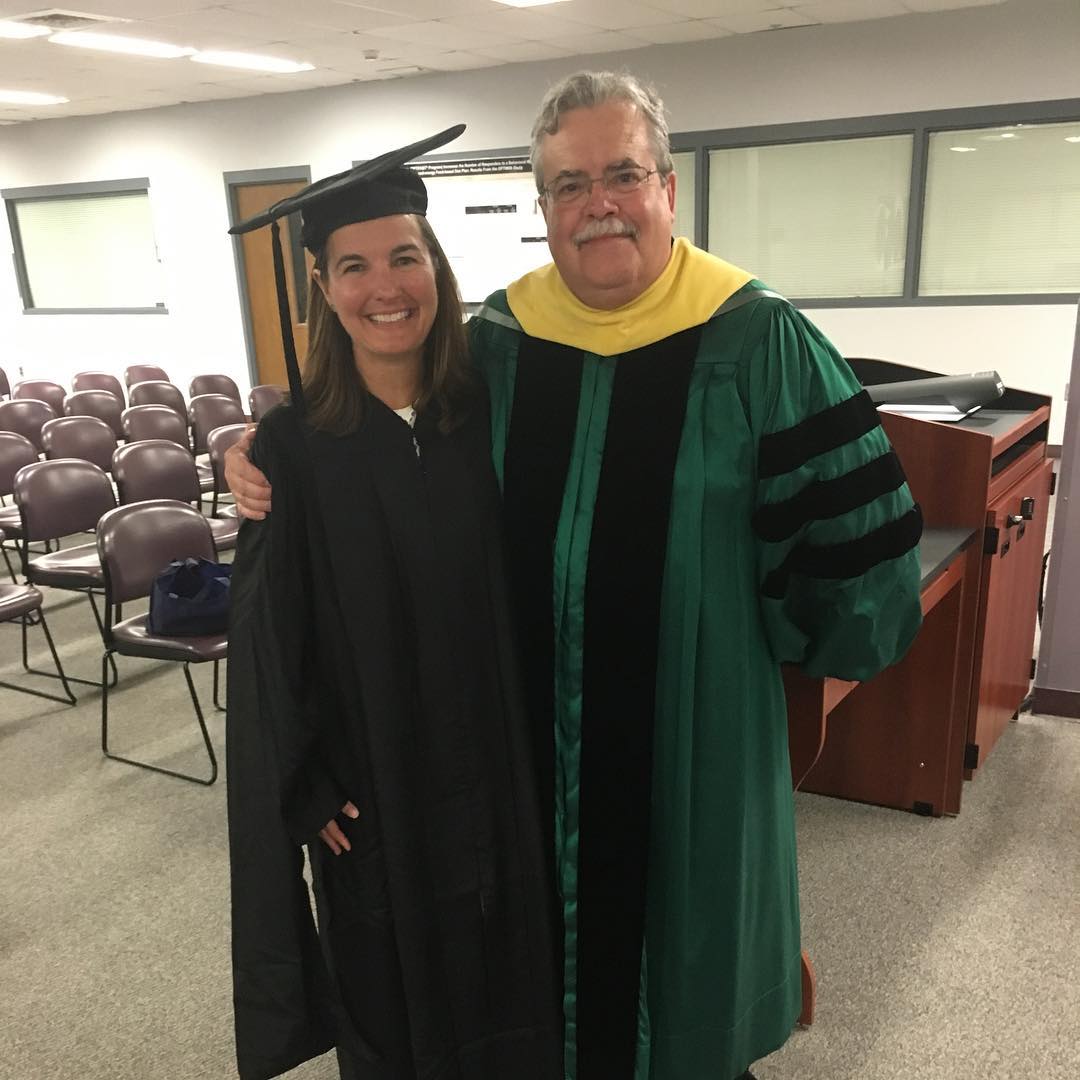 Hello My Beautiful Friends, It's been awhile, and I know that. Life is too busy, and I hate even admitting that. To be brief (and yet not really), this past Saturday I was given the honor of addressing the 2019 Graduating Class of East Carolina University's School of Hospitality Leadership. There have been a few people who have asked would I share my words, and so I dug up the old blog as a vehicle for doing so. Much love to all of you, those I see regularly and those I miss all of the time.
---
Commencement Address
Before I begin, I will share a story about some valuable advice my younger sister gave me last week when I told her I was giving the commencement address here tonight.
She is the librarian at Edgecombe Community College so she attends her fair share of graduation ceremonies.
When I proudly told her I was asked to give the commencement speech ,and that it was supposed to be 10-15 minutes, without batting an eye, she said "Well, I promise you they will not be disappointed if you go under."
Lesson #1 for the rest of your life…stick around people who will keep you humble.
My name is Inez Ribustello, and I am a native and champion of the eastern North Carolina region. Thank you for allowing me to address you this evening.
So many words to begin a commencement address.
What now?
Oh, the places you'll go.
Carpe Diem.
Real Life Starts Today.
I tried to go back in time to where you sit tonight.
But I bailed on graduation and ran off with a guy to backpack all over New Zealand and Australia.
Upon returning to the the states, I spent a week packing up most of my belongings to move to Manhattan to attend culinary school.
I don't have a vivid memory of my feelings about leaving college other than a little apathy.
I don't think I understood that there was no going back.
Culinary School was part of my big life plan to incorporate my degree in journalism and become a personality on the Food Network.
As with almost all plans, they never ultimately look exactly like the way we envision them. During my first week in Culinary School, I found my way into a retail wine store close to the subway station on the upper East Side. After being approached by the assistant manager, I was told I could save a lot of money if I worked there in addition to shopping there. The store held daily afternoon wine tastings, and I was enamored by the romance and the complexity of this incredible elixir. The job offer made sense to me, and so for the rest of my semester, I left cooking school at 5 p.m., ran over to Best Cellars Wine Store and worked until 10 p.m. Monday-Friday.
The result: I graduated from culinary school realizing I loved to drink much more so than I loved to cook.
The year was 1998, and I was 22 years old. No one had ever told me you could make a career in studying and serving wine.
In the Fall of the same year, the New York Times published an article on Andrea Immer, a female Master Sommelier who was also the Beverage Director of Windows on the World at the top of One World Trade Center. I was intrigued, fascinated, incredulous and absolutely determined to go work for her.
And so I looked up the number to Windows on the World Restaurant and called the main line. I asked to be transferred to Andrea Immer's office where I left her a message saying my name and my number and my interest in going to work for her in any capacity.
Lesson # 2 for the rest of your life: always call people back. It could change your life, and it most certainly could also change theirs.
Andrea returned my call and told me there was a new, small-scale restaurant opening on the 107th floor of the North Tower, and the hostess position was available.
Now here I was with both a Bachelor of Arts Degree and a Culinary degree, and she was offering me a hostess position interview. While I felt like this was beneath me and not anything I wanted to do, I knew the importance of getting a foot in the door.
Lesson #3 for the rest of your life: show people how good you can be at something you don't want to do, and they will believe wholeheartedly in how great you can be at something you are passionate about.
And so downtown I went, taking the A train to Chambers Street, where I exited into the base of the World Trade Centers.
The first time I took the 63 second elevator ride to Windows on the World, it was like Alice in Wonderland going down the rabbit hole except I went the opposite direction and was shot up into the top of the world. The elevator doors opened and before me stood the entrance to Wild Blue, the new chop house that was replacing where Cellar in the Sky had once been. The carpet was decorated with every different street map from all of the major world cities, and there was a beautiful young girl from Queens who greeted me with the warmest, biggest smile and said "Where is your destination today?"
Immediately, I felt at home. I told her I was there for an interview to be a hostess and I was supposed to meet the Beverage Director Andrea Immer at the Greatest Bar on Earth. "Wonderful," she said, and she took my arm and guided me left with our next stop being a bustling bar glassed in with views of the Williamsburg Bridge, the Manhattan Bridge and the Brooklyn Bridge, all overlooking the east river. She escorted me to a small cocktail area with comfortable seating and asked me did I want any water while I waited. When Andrea came into the bar to meet me, she had a smile on her face. "It's your lucky day," she exclaimed, "An assistant cellar master resigned this morning. Would you like to interview for this position instead?"
Lesson #4 for the rest of your life: There is such a thing as being in the right place at the right time.
I knew in the first five minutes of being there that Windows was a magical place, and once I was offered the job a day later, it only became more magnificent.
From that first day in March of 1999, I worked as an assistant cellar master for the largest grossing restaurant in North America.
While the title may seem impressive, I want to be clear that Assistant Cellar master was a glamorous yet technical term for minimum-wage paid box mover.
The job was known as a stepping stone, and people didn't stay there long. But I did. I was learning. I was magically learning all I could about wine via four day long inventories, photocopying wine lists and touching every bottle I could get my hands on.
There were people I worked with, who after two months, became sommeliers on the upper east side because their resume said they had worked as an assistant cellar master at Windows on the World. It was amazing the amount of weight the job carried when applying for other jobs. Within 9 weeks of being there, I had seniority, and with that the beverage department started taking me very seriously, one reason in particular, is because by this time,
I had completely organized all five cellars and I knew exactly where every wine was located. They did not.
Even now, I look back at that job as being the best job I have ever had. Sure it was menial, sure it was minimum wage, but it was satisfying and peaceful and I didn't have to make any monumental decisions. I wasn't in charge of anyone, I was just semi-in charge of product.
Lesson #5 for the rest of your life: Being in charge is not always the best job.
For 10 months I learned the ins and outs of wine and liquor inventory, the entire time reading Sotheby's Encyclopedia learning about all of the wines I was issuing to sommeliers and captains during service.
And every phone call to my parents back in Tarboro, ended with them asking me "When was I going to get a real job?"
Lesson #6 for the rest of your life: When you love what you do, you will find a way to keep doing it.
Fourteen months later, the Beverage Director asked me to take the position as Beverage Manager, and six months after that, I transitioned into his role as the Director when he left for another job.
Translation: In less than 2 years, I started making all of the decisions for the entire beverage department, literally two acres worth of restaurant, bar and banquet space.
Fortunately, I knew my limitations and I knew trying to pretend I could do this on my own would be a terrible mistake. Instead, I took a team approach and once I began my my new position, I met weekly with the two sommeliers as well as our general manager to make executive decisions as a committee, not as a dictatorship.
Lesson #7 for the rest of your life: You are only as strong as your teammates.
Those first 20 months of 2000 and 2001 were hedonistic in every sense of the word, and I was living life as fast as it could handle me. Life was as grand as could possibly be, and I knew I would never leave New York.
Until the unthinkable happened, and then every part of my being shifted gears in ways I never thought could happen.
Just like the rest of the country and the world, my reality became a different one after the attacks on 9/11.
While most everyone else went back to their jobs on September 12th, I, and countless others who worked at the Twin Towers, had no work to go back to.
My life had changed in the timespan of a morning, and I had no backup plan because my plan had never involved the tallest building on the east coast falling down into the ground and permanently losing coworkers who were like my family.
It was a dark time for so many, and while I knew I would survive the pain, I also knew I couldn't stay in the city any longer.
Lesson #8 for the rest of your life: We will all experience monumental pain at some point in our lives.
Part of living, however, is embracing the painful times as much as cherishing the beautiful ones.
And that is where my coming home story begins: in October of 2002, my fiancé and I moved back to my hometown of Tarboro and opened On the Square Restaurant and Wine Store . We lived in a small apartment located across the street from the restaurant.
Drastically different than our former workplace that was two acres in size, the only thing that On the Square had in common with Windows on the World was Stephen and me working there.
Lesson #9 for the rest of your life: The only thing certain in life is that change is inevitable. Go into the world knowing that change is always coming, sometimes small, sometimes big.
Flexibility is key and reinventing yourself is essential.
Five years after opening On the Square, Stephen and I bought a 10,000 square foot building a couple of blocks from the restaurant in hopes of moving our little gem to a much bigger venue.
But because change is inevitable, the plan to move the restaurant to this much larger building did not happen.
Instead, we ended up working with our local government and community members to open a small craft brewery in the space that is now affectionately called TBC for Tarboro Brewing Company.
And because by this time, craft breweries had become a dime a dozen, we realized within a year of being open, that if our business plan didn't shift in another direction, we possibly wouldn't be in business much longer.
And so almost 13 months later to the day, we opened a satellite taproom in Rocky Mount about 20 minutes away from the original location.
We have had to constantly change and reinvent our businesses so that they are current, relevant and what the surrounding community needs and wants.
When I think about hospitality leadership, I like to compare it to the long game.
The truly great hospitality establishments, whether it be restaurants, hotels, caterers, entertainment venues or event spaces, the long game is the legacy you create because of the service you provide for years and years.
A restaurant is not great because it has a fantastic opening day. It is not great because it has a beautiful interior or a famous chef.
A restaurant is great because of the way it makes people feel when they dine there. A restaurant is great because it withstands the test of time and reinvents itself to accommodate society's demands. A restaurant is great because the people who own, manage and work there treat the business and their team with love and respect.
Lesson #10 for the rest of your life: Be Kind. If you're not creating workspaces where people enjoy coming to work, your business will suffer.
Most of you just spent four years in Greenville, North Carolina studying a little, partying a little, working a little to receive a diploma from the East Carolina University's School of Hospitality Leadership.
What you do once you leave this campus is entirely up to you. There are no limits and there are no boundaries. You have a degree that can be used anywhere in the world, and if you use it the way it is intended, you will have more opportunities than you can imagine to meet people that will impact you professionally and personally.
Use the gift of service not just in the workplace but also in the place you choose to live. Live a life of purpose, and remember the importance of the community you serve and the neighbors around you. Work is important, but so is giving back in meaningful ways. The people and businesses that are the most successful are the ones who are constantly involved in community service and social justice.
My last rest of your life lesson, and the one I believe to be the most important:
Find your purpose. Don't just focus on what you want to be, but also focus on who you want to help and what positive change you want to make in our world.